The corono-virus hits home for us and we really are confronted with some decisions.
We entered Turkey right at the end of week 4. The recent evolution of this corono-virus has impacted us all. We spent the first 4 weeks of our trip kind of blissfully ignorant to the situation escalation both at home and here in Europe, for better or worse. We didn't read nor see much of the media or news while getting Coastline on the water and settling into our new life. About 2 weeks earlier I heard from mum in Hervey Bay, Queensland that there was a run on toilet paper in Australia. But why toilet paper I thought? I still don't know nor understand why…. Best to be blissfully ignorant on this one too we thinks!
It's a very challenging time in many respects across the world. Very few are left unaffected by CV19, some worse than others now and in the future. It truly is a global issue. Many infectious diseases have impacting parts of the world over the past few centuries. The world has seen this type of event before, along with other major global events such as world wars. But we are in a different time and the world operates differently in 2020. This makes CV19 more significant, impacting more lives and global economies in similar and varied ways. The year 2020 will go down in history in many ways, not just for us Jackson's. Everyone will have a 2020 Journey to remember this year! We hope you are all keeping positive and getting on with life as best you can.
During week 5 and 6 we saw Government CV19 containment action in Turkey and across Europe, similar to what we saw take place in Australia and New Zealand. We really had to think carefully about global CV19 and how it affects us and how we might affect or impact others. At the time we were back at Cesme Marina in a secure gated marina compound while a weather front passed. This enabled us to evaluate what we will do in the foreseeable future. We decided to continue our Journey this year, at least until new developments or Government changes occur that might make our journey less viable to continue. We have a few options in the pot, each having its pro's and con's.
Entering Turkey on 11 March was straightforward. We checked out of Greece from Chois, surrendered our Transit Log (boat papers for Greece), and made a 1 hour passage from Chios to Cesme, Turkey. We did this late in the day arriving at Cesme Marina. A last minute decision to avoid being held up in Greece for several more days to wait out some poor weather. Our first 4 weeks in Greece under our belt. A real cruising family living aboard, and abroad. It was late when we arrived in Turkey and the Turkish Immigration office at Cesme was closed. Before attending an appointment with our Turkish Immigration Agent to formalise our arrival, Brian went for an early morning walk outside the marina complex while Lisa and the boys were asleep. Dawn not quite arrived, rather odd feeling like an illegal alien wondering the streets. With some traditional breads from a bakery for our breakfast in hand, fresh and warm, we enjoyed our first breakfast in a new country. The best 7.75 Turkish Lira I spent all week, about AU$2. For the whole bag! And no problem getting our 90 day visa later that morning.
We feel fortunate to have entered Turkey when we did as its borders closed a few days after our arrival. Greece and much of Europe the same. However, Greece soon upgraded restrictions to include no movement between ports and marinas which really would have presented a tougher and more lonely existence for us cruisers had we not have crossed into Turkey when we did. The border closures coincided with our decision to stay the course, keep living our 2020 Journey. For now, we are effectively locked in Turkey, unable to leave unless by plane back to Australia (or New Zealand). We will continue to enjoy Turkey's vast and beautiful western coast while we make our way south from Cesme to Gocek for the duration of our 90 day visa. We will see how border and travel restrictions change over the next couple of months. We hope for an easing of border controls over the next 2 months to allow us to re-enter Greece. However, if borders remain closed beyond May we may have to overstay our visa. The Turkish Government has confirmed that no penalties will apply due to the impact of CV19 restrictions.
It's been a little tense at times out and about here. While people are getting on with life, there is clearly concern from the community with masks, gloves, hand sanitizers, and the like to full use. We have had the odd Turkish national appear uncomfortable in our presence, well it appeared that way.
On the weather front, no pun intended, the weather has been quite cold since we arrived in mid-February, along with unsettled wind and ocean swell. The cold was often broken by warm sun and little wind during February. March has felt much colder with persistent northerlies and strong winds bringing cold from the north. March is notoriously more challenging for 'cruisers' like us weather wise in this part of the world. In fact, we got caught in 40 knot winds gusting following two nights away from Cesme Marina anchored in a bay 12 nautical miles away. A two-hour passage that started in darkness and turned into a three and a half hour survival mission (dramatized). The weather front arrived early and the wind and ocean between landmasses and in channels angry. It was rather tense at the helm and down below, our boat Coastline making 0 knots at one point trying to get around a cardinal mark and avoiding shallow water. With 3-4 meter swell off our beam, our little Yanmar diesel and the helmsman fighting swell and wind (not dramatized). An interesting time, character building. We trusted our boat and knew she would do fine. Us occupants would rather that not happen again, a little shaken by the experience. A couple of accessories top side swept off into the ocean. Waves crashing over the bow like in an episode of Deadliest Catch (not dramatized). We live and we learn! The Captain should have planned better and left the night before! He will next time. Lisa and our boys, little captains in training, will make sure of it!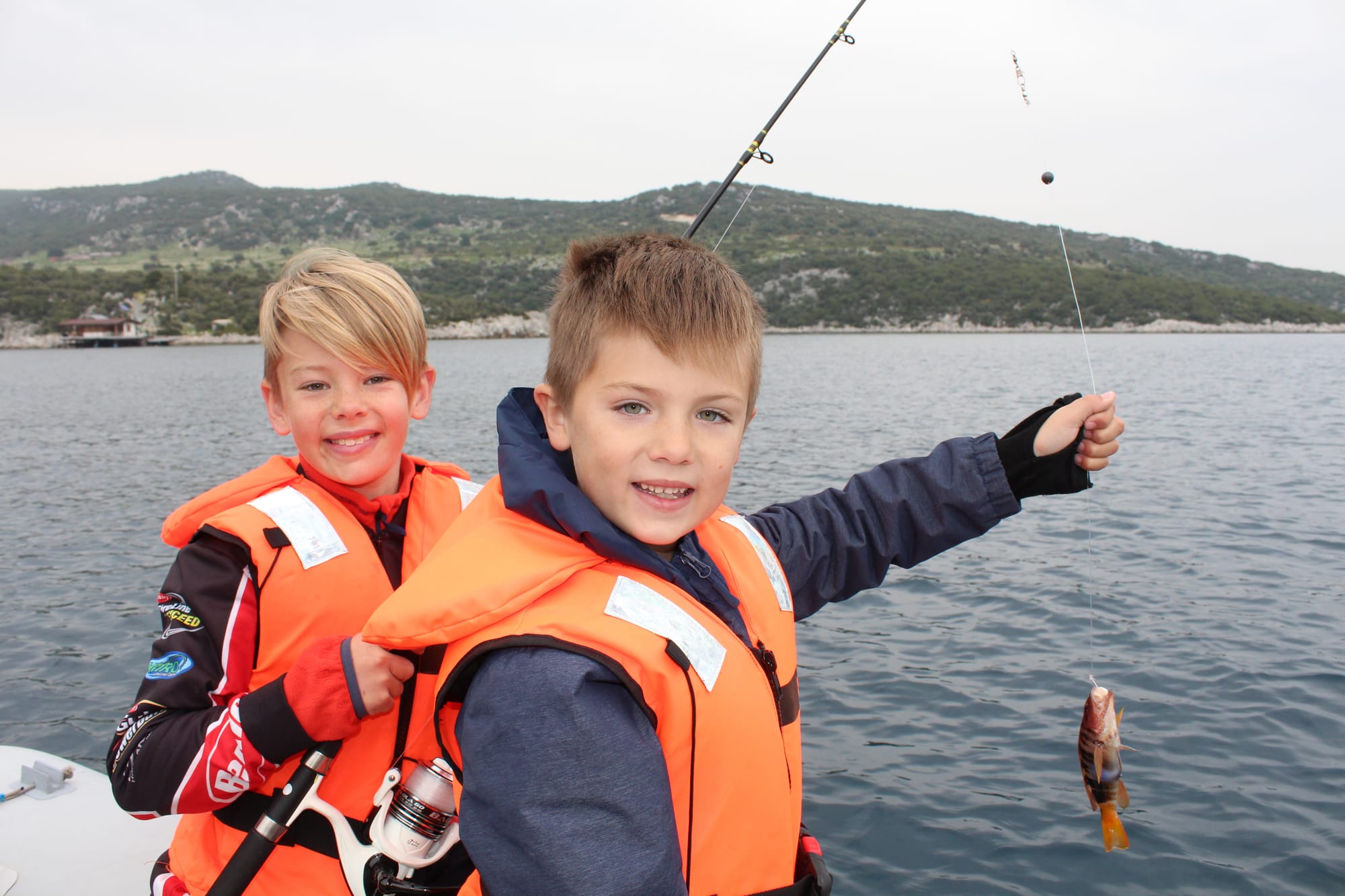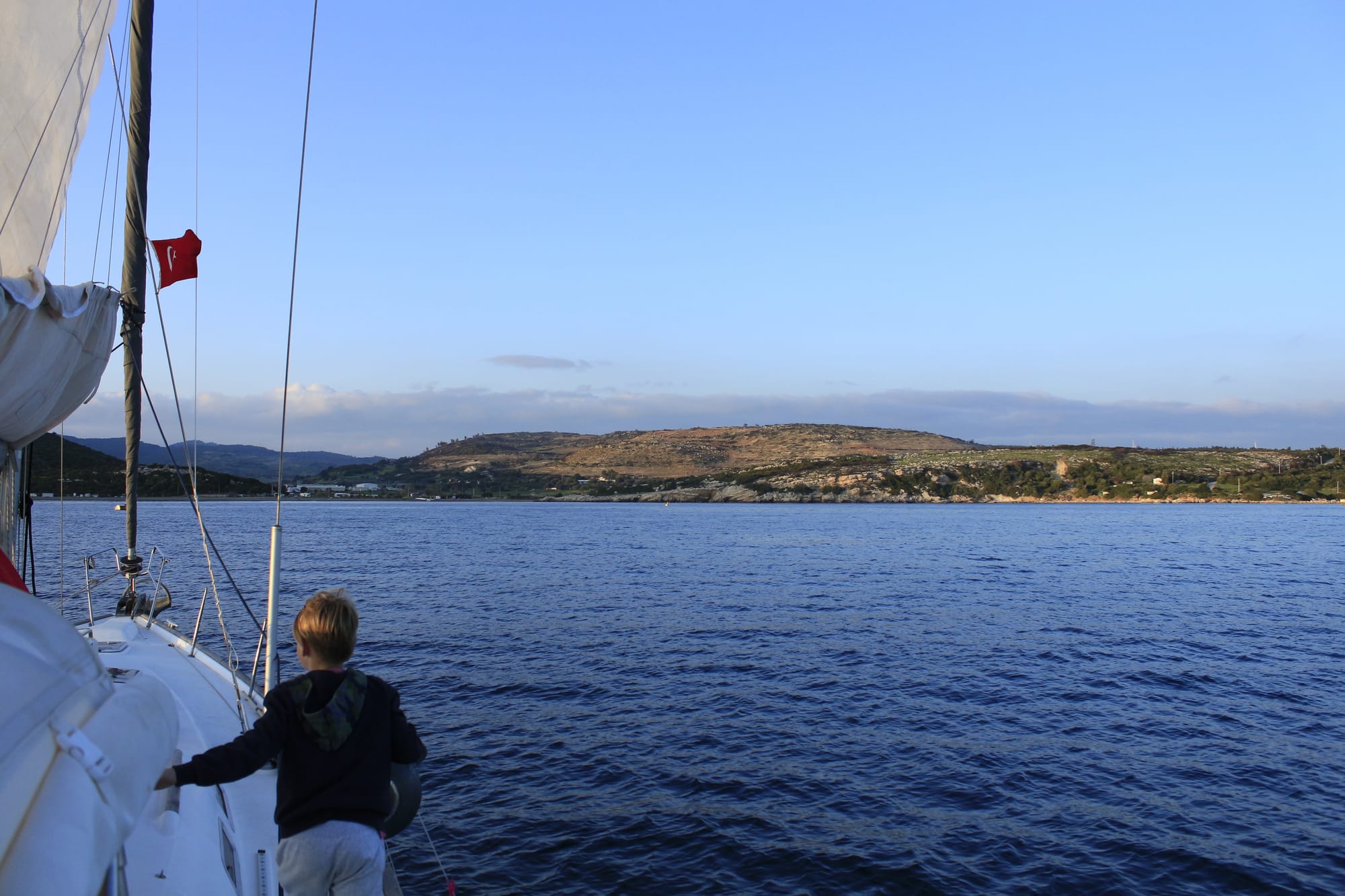 We were happy that over the weekend of 21/22 March the poor weather eased with a warmer weather front arriving for a week which was very welcome. The warm winter sun warming our day. We stocked up our storage compartments, every nook and cranny of our boat with essential supplies to get away and into isolation. We left Cesme Marina and made our way south towards Kusadasi, Turkey. We were joined by our Australian cruiser friends on boats Sunday and Salacia Star, the cruisers we met in Greece at week 2 and left us at week 3 as they needed to get to Turkey promptly to comply with visa requirements, along with another Australia sailing couple on Adventurous. A four cruising boat flotilla!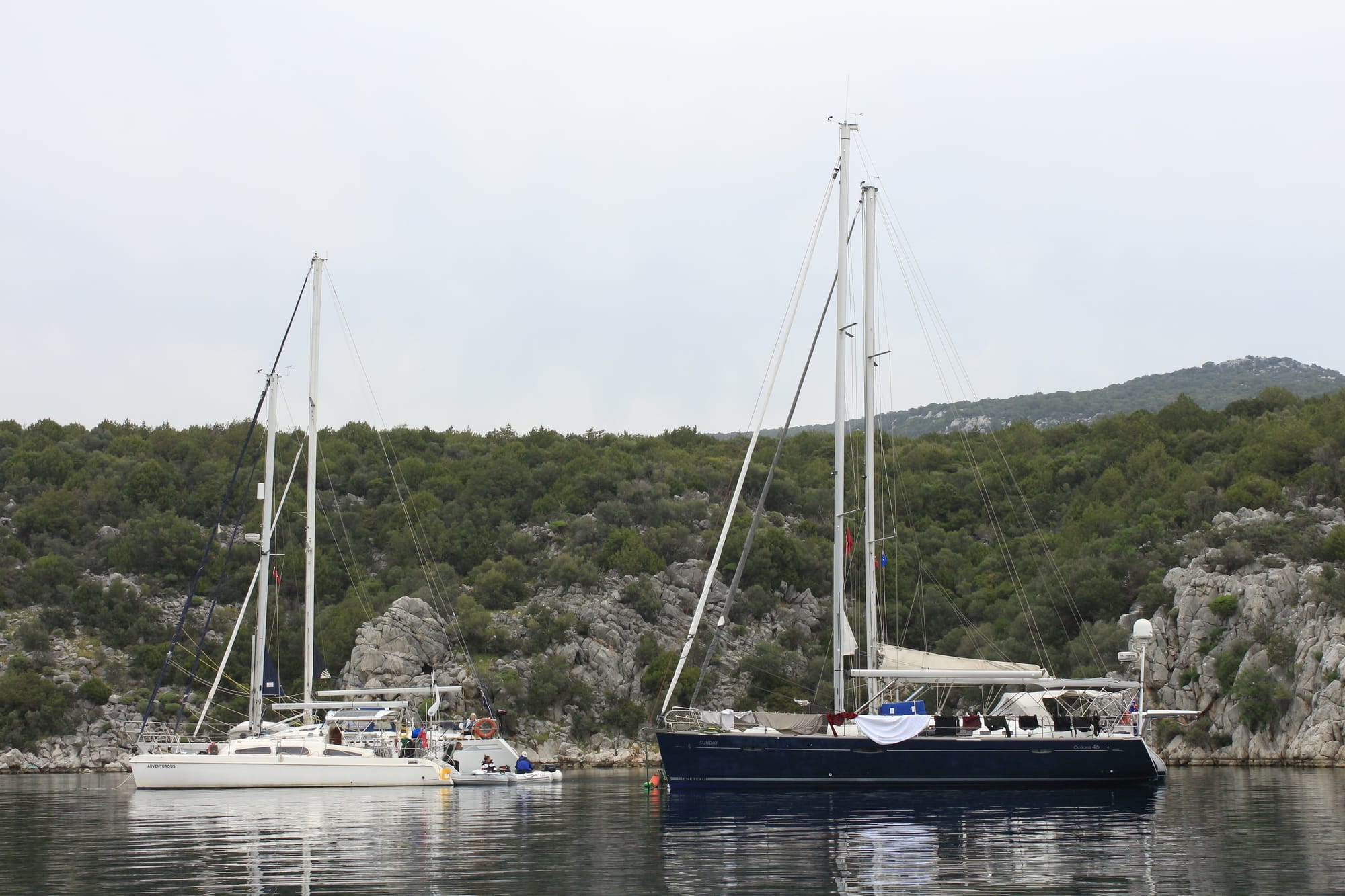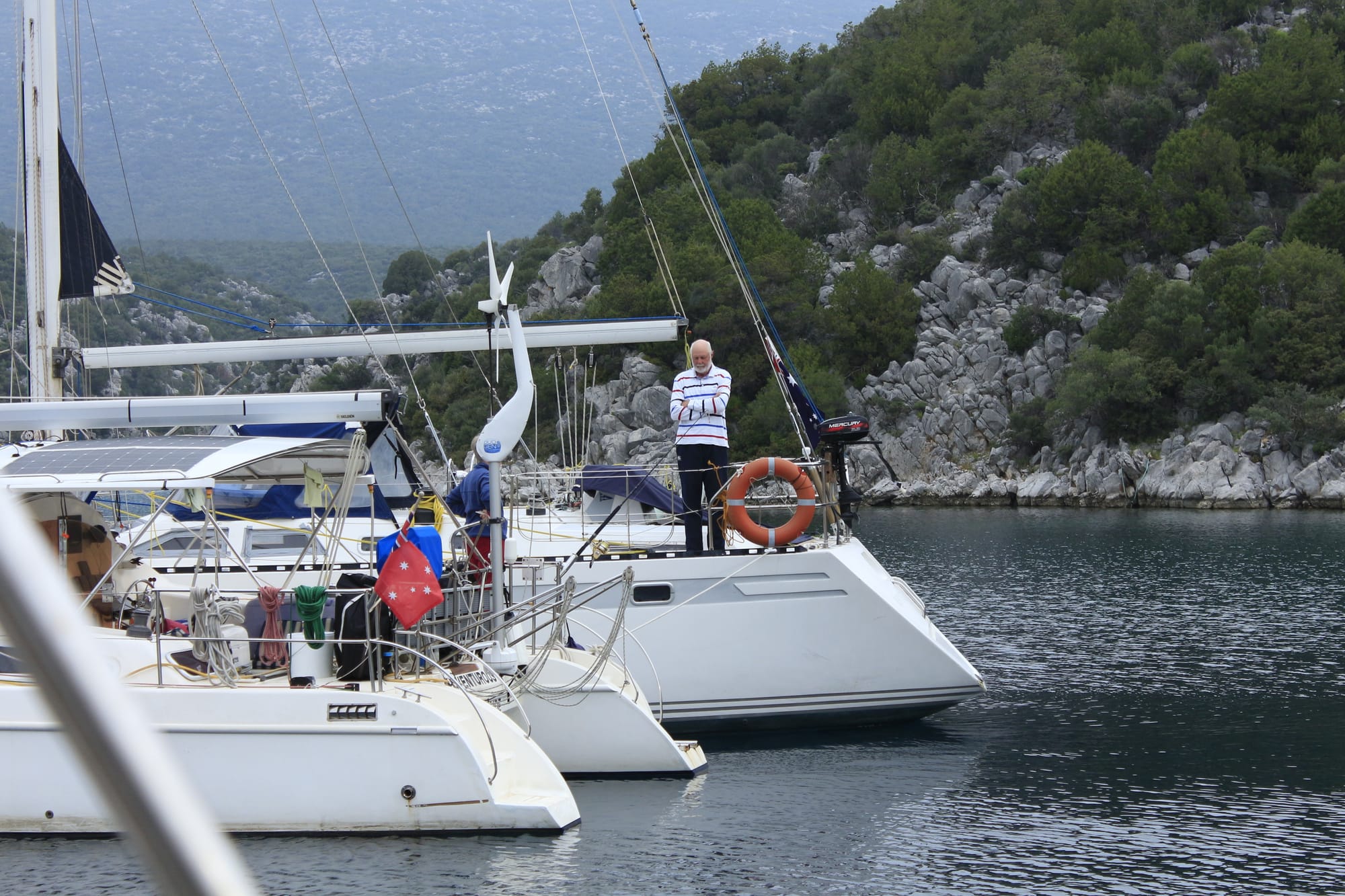 We are safe. We are being careful and conscientious. We are limiting our contact with place and people. As so many others are doing. We are present in the situation and living with care. We cannot define our lives any differently during this time!